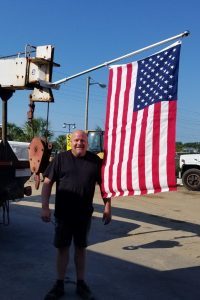 Jeff Schmalfeldt opened the shop in 1985 and started in a small 20′ x 25′ space. In 1989, they expanded 2000 square feet and again in 2001, added another 5000 square feet. Little River Welding does all kind of welding repairs, steel, aluminum and stainless fabrications to customer specs. We have the most complete line of hydraulic hose and fittings within 100 miles, keeping all of the hard to find metrics such as German, British, and Kobelco fittings and adapters.
"Right is right, no matter if everyone is against it and wrong is wrong, no matter if everyone is for it." – Jeff's Father
Jeff has worked his father's machine since he was 11, where his dad taught him to always do things the right way. His father has a saying, "Right is right, no matter if everyone is against it and wrong is wrong, no matter if everyone is for it". Jeff tries to incorporate that into his everyday life and business practice. Jeff went to school for aircraft mechanics and holds a FAA license in aviation repairs, covering power plant, jet engine repairs, recipe engine repairs, and the entire airframe superstructure.
Jeff's career as a volunteer firefighter started in 1986 and went through March of 2007. He held the title of Captain, Assistant Chief and eventually Chief for 17 plus years before retiring from the volunteer service. "I miss the station and the guys and of course helping people which is what I miss the most. I love the residents of Little River and I am truly blessed to have the friends in my life that I do."

Little River Welding is a D.O.T. Federal inspection shop for large over the road vehicles and we also work on heavy equipment including bulldozers, track hoes and dump trucks. We service equipment, troubleshoot electrical problems and do routine maintenance as well. We build trailers, spiral staircases, custom projects, and complete almost any repair. Our large hydraulic shears, iron workers, drill presses, milling machines, lathe's, steel rollers, benders and welders fabricate just about anything that will fit in the building. We pride ourselves in doing good work in a timely fashion, while at a reasonable price.
We are known for our largest selection of hydraulic hoses and fittings for over 100 miles and have some customers traveling 2 hours for their larger hydraulic hose needs. Our hose crimping machine that will do up to 2 1/2″ diameter.
This is our 35th year in business and we can say it is certainly a pleasure to help the public both in the shop and with the fire department. Once a fireman, always a fireman.